AMG Fuel Filler Cap Chrome with Red Inserts Genuine Mercedes AMG
€130.47
(€157.87 incl. 21% LV VAT)
Ready to ship worldwide in 10-21 w/days
---
The set consists of:
AMG fuel filler cap (1 pc.)
Description
Beautiful AMG Fuel Filler Cap Chrome on Sale
True sports cars deliver a completely enhanced driving experience. They do not focus only on strong acceleration, only on high top speed, or only on sharp handling. They deliver all that while keeping the driver with full control and providing a comfortable environment for them to enjoy the car for hours with minimal fatigue. Such experience can only exist when all components of the car are working together.
Genuine AMG Fuel Filler Cap with Red Inserts
This item aims to make your life easier. First, it is made by one of the best sports car manufacturers in the world, so you know it has a high quality standard. Besides that, it is easy to use. Whenever you need to refuel your car, there will be no need to worry. You will be able to quickly open and close it yourself. And if you visit a gas station with staff to operate the gas pumps, they will be able to do the service in a second. The AMG fuel cap is designed to make the refueling process as quick as possible while looking great. Next time you want to purchase genuine tuning items for Mercedes AMG cars, make sure to include this one. You can even use the A0004703301 product code to make your purchasing process easier. Keep in mind that we offer worldwide shipping for it, as usual. Once your AMG filler cap arrives, all you have to do is have it installed with professional expertise. You will be amazed by its design, and that impression will become even better once you start using it in practice. Feel free to contact us if you need more support.
---
Highlights:
Plug-and-Play mounting
AMG lettering with silver chrome
---
Specification:
Color: chrome / silver / red
---
Scope of delivery:
This offer includes the genuine AMG fuel filler cap with AMG presentation packaging.
Optionally, additional parts can be selected in the kit configuration. If available, the configuration appears when the product is added to cart.
---
Installation:
The installation is Plug & Play on every specified model.
Using the VIN (vehicle identification number), we have an opportunity to check compatibility of your vehicle with the retrofit. If you have doubts about compatibility or installation, you can specify VIN of your car while placing an order.
Unfortunately, we cannot follow all the road & traffic regulations of each country, please check if any registration is needed locally.
For further questions regarding the installation, please feel free to send us a request.
---
100% genuine Mercedes-Benz AMG tuning / performance parts / fuel filler cap
Model fitting
A-Class (W177 Facelift)
Hatchback
A-Class (W176 Facelift)
Hatchback
AMG GT-Class (C190 Facelift)
Coupe
AMG GT-Class (R190 Facelift)
Roadster
AMG GT-Class (R190)
Roadster
B-Class (W247)
Compact Van
B-Class (W246 Facelift)
Compact Van
B-Class (W246)
Compact Van
C-Class (W205 Facelift)
Sedan
C-Class (S205 Facelift)
Estate
C-Class (A205 Facelift)
Cabrio
C-Class (C205 Facelift)
Coupe
CLA-Class (X118)
Shooting Brake
CLA-Class (C117 Facelift)
Coupe
CLA-Class (X117 Facelift)
Shooting Brake
CLA-Class (X117)
Shooting Brake
CLS-Class (C257 Facelift)
Sedan
E-Class (W213 Facelift)
Sedan
E-Class (S213 Facelift)
Estate
E-Class (C238 Facelift)
Coupe
E-Class (A238 Facelift)
Cabrio
GLA-Class (X156 Facelift)
Crossover SUV
GLA-Class (X156)
Crossover SUV
GLC-Class (X253 Facelift)
SUV
GLC-Class (C253 Facelift)
SUV Coupe
GLC-Class (C253)
SUV Coupe
GLE-Class (C167)
SUV Coupe
GLE-Class (W166 Facelift)
SUV
GLE-Class (C292)
SUV Coupe
GLS-Class (X166 Facelift)
SUV
S-Class (A217 Facelift)
Cabrio
S-Class (C217 Facelift)
Coupe
S-Class (W222 Facelift)
Sedan
S-Class (V222 Facelift)
Sedan Long
S-Class (X222 Facelift)
Maybach
SL-Class (R231 Facelift)
Roadster
Related products
€130.47
€157.87 incl. 21% LV VAT
Reviews
Beautiful piece! Nice packaging, arrived soon to my Country!!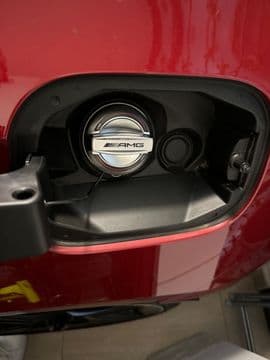 I was thinking about getting this fuel cap for ages. Finally I went for it, and have to say I'm not disappointed. The cap looks great and I can admire it when I'm refuelling 😆. First time buyer with MERCTEIL too - really happy with responsiveness and service.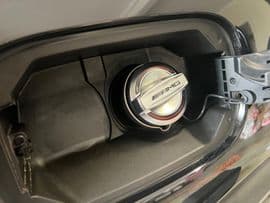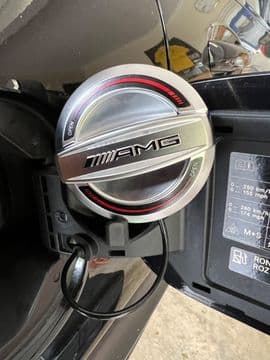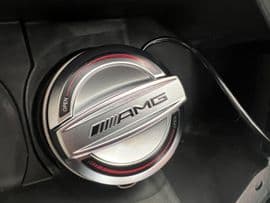 excellent . fabulous products and Extreme Services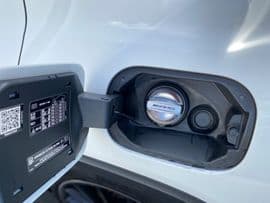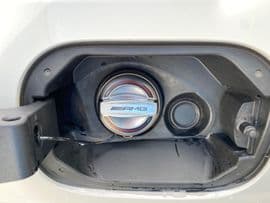 5 stars is absolute perfection in every aspect and I have 1 small issue. Very nice high quality item. I was not sure what exactly I would get... was thinking maybe a machined aluminum part to fit over the existing factory gas cap. What arrived is a precision made AMG cap to replace my factory one, complete with the security lanyard. Looks very nice once mounted even if I am the only one likely to ever see it lol. The box it came in is too nice to throw away and I'll repurpose it. The *only* minor gripe I have is the plastic "horn" sticking out of the bottom of the cap seems to prevent the cap from having an exact fit in the built-in holder on the inside of the filler door. The cap will stay in the holder but not as secure as the factory cap. It will fall out of the holder quite easily if the gas filler nozzle bumps into it while gassing up. Also seems the AMG cap is slightly thicker which contributes to not fitting right in the holder. I definitely would not want this metal AMG cap to simply dangle against the car paint for fear of getting scratches.